Apple On 23 October 2012 organized their second conference after launching iPhone 5. Apple launched new products to the market such as iPad Mini, iPad Retina Display, Mac Mini and iMac.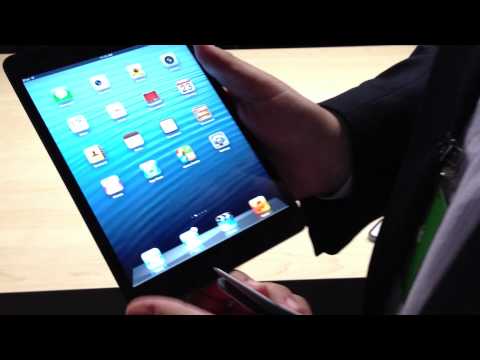 iPad Mini is one of Apple's new device which is a small version of the original iPad. As it's much smaller, lighter and slimmer that can be easily carried and used for the users.
iPad Specifications
7.9-inch (diagonal) LED-backlit Multi-Touch
display with IPS technology
1024-by-768 resolution at 163 pixels per inch (ppi)
Fingerprint-resistant oleophobic coating
1.2MP photos
720p HD video
FaceTime video calling over Wi-Fi or cellular4
Face detection
Backside illumination
Tap to control exposure for video or still images
Photo and video geotagging
Lightning connector
3.5-mm stereo headphone minijack
Built-in speaker
Microphone
VoiceOver screen reader
Guided Access
Support for playback of closed-captioned content
AssistiveTouch interface for adaptive accessories
Full-screen zoom magnification
Large text
Option to invert colors
Left/right volume adjustment
iPad Mini comes with two colours black and white with 16/36/65GB capacity. As both of the colours comes either with WIFI or Cellular. The device cost from $329.
MacBook Pro 13inches is the new device were Apple released. MacBook is a screen where everything you see is vibrant, detailed, and sharp. With the 15-inch MacBook Pro with Retina display, we created the world's highest-resolution notebook display.
MacBook Pro Specifications
Height: 0.75 inch (1.9 cm)
Width: 12.35 inches (31.4 cm)
Depth: 8.62 inches (21.9 cm)
Weight: 3.57 pounds (1.62 kg)2
720p FaceTime HD camera
MagSafe 2 power port
Two Thunderbolt ports (up to 10 Gbps)
Two USB 3 ports (up to 5 Gbps)
HDMI port
Headphone port
2.5GHz
2.5GHz dual-core Intel Core i5 processor (Turbo Boost up to 3.1GHz) with 3MB shared L3 cache
Scaled resolutions: 1680 by 1050, 1440 by 900, and 1024 by 640 pixels
MacBook Pro costs from $1100 and that depends of the device sizes and features.
iMac is one of the biggest challenges our engineers faced was how to join the front and back of the new iMac. The enclosure is so thin, it's not possible to weld the pieces using traditional methods. iMac is available with 21.5 and 27 inches screens and it costs from $1299.
iMac Specifications
21.5-inch (diagonal) LED-backlit display with IPS technology; 1920-by-1080 resolution with support for millions of colors
2.7GHz
2.7GHz quad-core Intel Core i5 processor (Turbo Boost up to 3.2GHz) with 6MB L3 cache
NVIDIA GeForce
GT 640M graphics processor with 512MB of GDDR5 memory
SDXC card slot
Four USB 3 ports
Two Thunderbolt ports
You can follow any responses to this entry through the RSS 2.0 You can leave a response, or trackback.