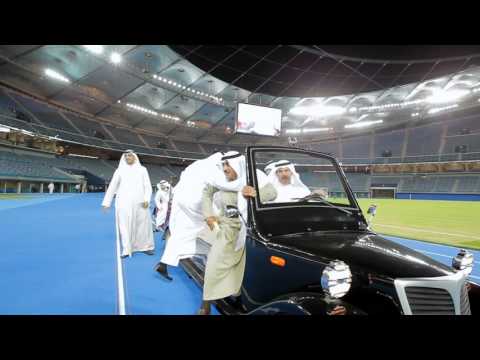 Jaber Al-Ahmad International Stadium is one of huge stadiums in Kuwait completed in September 10, 2010. It is mostly used for for football matches and athletics. Years ago, I covered Jaber International Stadium Officially Opened, it wasn't an official event organized by the government.
On Friday December 18, 2015 Kuwait will host, Kuwait Champions Challenge one of the largest entertainment and sports event bringing together Kuwait's all-star players and the Football Champions Tour in the prestigious Jaber Al-Ahmad International Stadium. The event, a historical moment for Kuwait, will be preceded by an opening ceremony gathering Kuwait and the region's leading singers and performers as well as a fireworks and laser show.
Last Wednesday, I received an invitation from the event management team of Kuwait Champions Challenge to attend private tour of the stadium and show the latest preparations. Sheikh Mohammed AlAbdullah AlSabah – Minister of State for Cabinet Affairs took us a tour inside the stadium and presented to us the preparations.
The international players of Kuwait Champions Challenge are:
Ronaldinho
Robert Pires
Carles Puyol
Gianluca Zambrotta
Paul Scholes
Deco
Luís Figo
Andriy Shevchenko
Alessandro Nesta
Steven Gerrard
Mohamed Aboutrika
Within 12 hrs of launching the online booking 27,000 tickets are totally booked and their are some tickets available. Tickets are sold by Free and all you need to do is to pre-book your ticket online via Jaber Stadium Website.